Harpist, Singer, Flutist, Composer
One of British Columbia's most popular harpists, Lori Pappajohn knows how to entertain. From North America to Chile, Britain, Ireland and Greece, she is in demand for her fun and innovative performances of pop, jazz, Latin and world music. Whatever your event, she can create the perfect atmosphere. Simply put, she brings class with pazzazz.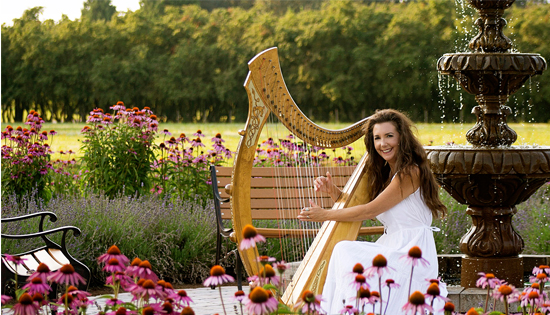 Lori Pappajohn's beautifully-carved Celtic harp is a replica of a rare one-of-a-kind 17th Century harp in the Dublin Museum. Her elegant gowns are designed after those found in pre-Raphaelite paintings. Her playing style varies from classical to pop and world.
Lori Pappajohn is founder and director of the critically-acclaimed Winter Harp Ensemble which tours western Canada each December playing to some 10,000 people -- consistently garnering standing ovations and sold out concerts. Lori Pappajohn has performed on TV and radio and was nominated BC Touring Artist of the Year for her artistic and performance excellence.
Also a composer and arranger, she has released 11 recordings which are sold around the world. An award-winning journalist, Lori Pappajohn has studied and performed with some of the world's greatest harpists.
With her highly-successful Harps International she has toured for Community Concerts, a division of Columbia Artists, New York.
Lori Pappajohn has been part of the faculty of B.C.'s International Celtic Harp School which features acclaimed harp teachers from around the world.
To read more of Lori's story, visit the My Story page.