Weddings
Your wedding day is one of the most special days of your life. And having a harp at your wedding makes it especially romantic and especially classy. The beautiful sound of the harp and the elegant look can elevate your ceremony into an unforgettable experience.
Before the Ceremony
As your harpist, I arrive about 45 minutes ahead of time and tune the harp. (Every time you move a harp you have to tune it.) Then I begin playing so that while your guests arrive there is lovely harp music drifting through the church or garden -- or wherever your wedding is being held.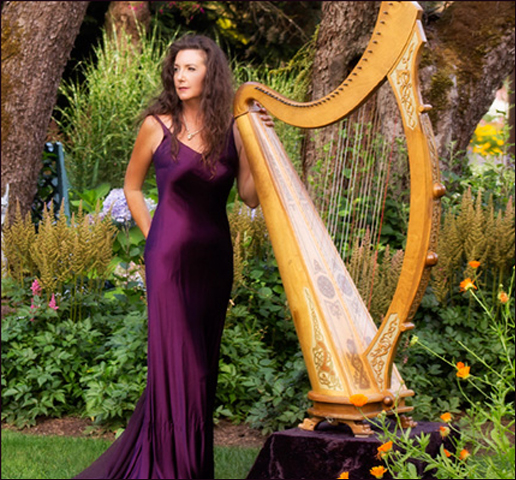 The Processional
I play a song as the bridesmaids and flower girls walk up the aisle, and another song for the bride. Most brides walk up to Pachelbel's Canon in D which is a gorgeous piece of music and perfect for weddings. Most people know it -- and it always brings a tear to the eye. It tugs at the heart strings and has a beautiful melody that you can gracefully walk to as if you are gliding on a cloud.
The Ceremony
I play a song during the signing of the register. And then, at the end, I play as the bridal party walks out and I continue playing as the guests leave the venue.
The Music
We can work together to choose the music for your wedding.
There is so much exquisitely-beautiful music written for harp that it's not hard to find something that is just perfect.
Location
I'm available to play weddings in the Vancouver and Lower Mainland area.